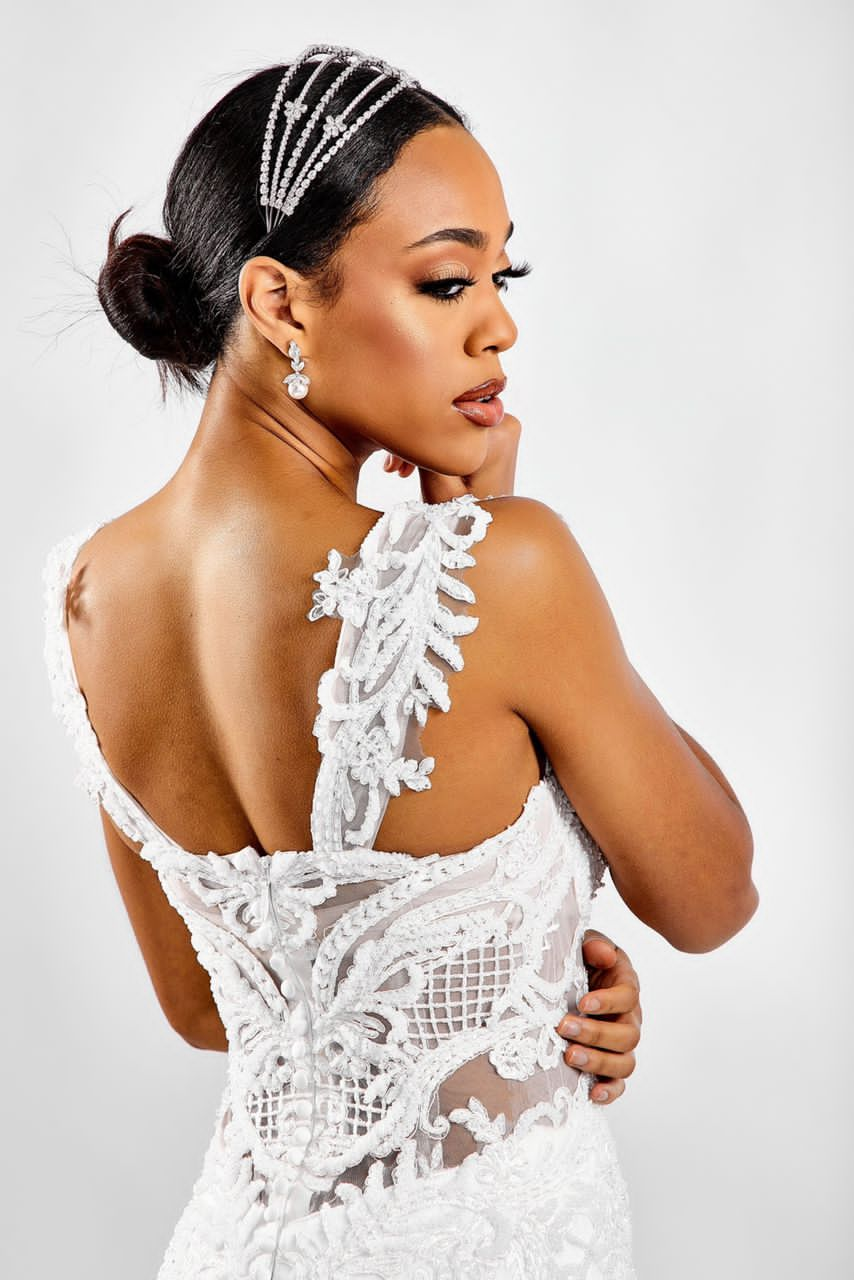 BEL VOGLIO Bridal, designed for sophisticated, resourceful, and forward-thinking bride. BEL VOGLIO is founded on the belief that you can have anything you want by looking beautiful on your wedding day without breaking the bank – something we've always believed, too!
We have made a point to cut out designer markups and retail costs to pass along the savings to brides. Our high-quality made-to-measure wedding gowns fall under $1,500 – $ 6000, landing these into our affordable wedding dresses category.
We are not just inclusive with pricing, but inclusive with design, sizing, and style.
We use real Swarovski crystals, intricate hand embellishments, luxurious fabrics, and timeless details to create pieces that transcend time.
The ethereal element is ever present in each style with a twist of deep appreciation of all the delicate moments of the ceremony. All Bel voglio gowns are made-to-measure. This means the dress will be fit to you, rather than you fitting into the dress.
" For our Bel voglio Bridals collections, we believe in the details — beading, floral appliqués, dramatic backs, and perfect draping. Every gown features details to set it apart and make the bride shine. Brides deserve to be at their most beautiful, and our aim is not only to design and produce the perfect gown but to provide daily inspiration for our brides-to-be.
We understand how important your bug day is and we are here to help you achieve your dream look!
The team believes in creating remarkable experiences for all our brides.
We are committed to creating a memorable fashion look infused with all the glitz and glamour for our clients.
We begin with a consultation to get to know you.
The team considers it a privilege that brides trust us with the responsibility of celebrating major milestones. We are happy to be of service.
The aim is to give our brides the most precious gifts by making sure this process is as seamless, enjoyable, and efficient as possible.
We handle everything regarding the overall fashion look for brides from the moment they get engaged to the big celebration day (this includes the pre-wedding shoot, African wedding, customary wedding, bridal shower/party, and church wedding).
Bel Voglio has an in-house designer and stylists who understands fashion and its entire concepts for wedding occasions.
As your bridal stylist we help our brides to make appropriate choices for styles and designs regarding their wedding outfits, we also recommend and source the best wedding accessories to match outfits.
The team understands every bride is different so we make sure to recommend or suggest the best bridal gown sizes, types, cuts and color that perfectly suit the client's body type.
We also help to source bridal robes, head pieces, bridal shoes, sandals, veils, bridal hand gloves and crowns.
Assisting clients with gown fitting and follow up alterations.
Bel voglio has an in house professional makeup artist and bridal hair stylist which we provide to brides.
The Bel Voglio bridal stylist team helps brides with their taste, preference, and style, and provide suitable recommendations afterwards.
We also provide planning, coordinating, pickup, delivery, and return of bridal costumes that are rented or hired.
The company begins to process and produce your choice of outfit once our customer decides on the dress style, color, size, and any other necessary dress information.
When the company have agreed with the production team, which includes stylist, designer and the tailors on the specifics of your dress, the complete order is then confirmed and submitted for production.
Since all dresses are made on order, a 60% non-refundable deposit is required before we can begin production. Also please note that when ordering our custom bridal gowns, your order is not complete until a Bel Voglio receipt confirms your order.
Fabric Variations And Custom Orders
Please note that due to variations in dye-lots, fabric colors may vary and may not be the exact color you chose from the color card or sample you provide. If your custom order fabrics based on a previous design seen or discussed is reviewed with Bel Voglio.
Please note that there may be slight variations to the reproduction of this fabric from their various vendors.
The company will work with all concerned brides to decide on the best sizes for them by comparing their measurements with our sizing chart. If any of the agreed measurements are taken elsewhere by the client and altered without the company's supervision, the client is held responsible for those measurements and their accuracy. We recommend choosing larger sizes if you fall in between sizes; as dresses can only be taken in, not let out. If our client chooses to order a size that is not recommended by the company's standard measurement, the client must sign off on that size. 
Bel Voglio as a company is not responsible for any dress that does not fit after a client has signed off on the size. If a new dress is needed due to incorrect sizing, the client will be charged full price for the re-order.
No party shall be liable or responsible to the other party, nor be deemed to have defaulted under or breached this Agreement, for any failure or delay in fulfilling or performing any term of this Agreement (except for any obligations to make payments to the other party hereunder), when and to the extent, such failure or delay is caused by or results from acts beyond the impacted party's ("Impacted Party") control, including, but not limited to, the following force majeure events ("Force Majeure Events"): (a) acts of God; (b) a natural disaster (fires, explosions, earthquakes, hurricane, flooding, storms, explosions, infestations), epidemic, or pandemic; (c) war, invasion, hostilities (whether war is declared or not), terrorist threats or acts, riot or other civil unrest; (d) government order or law; (e) actions, embargoes or blockades in effect on or after the date of this Agreement; (f) action by any governmental authority; (g) national or regional emergency; (h) strikes, labor stoppages or slowdowns or other industrial disturbances; and (i) shortage of adequate power or transportation facilities. The Impacted Party shall give Notice within 15 days of the Force Majeure Event to the other party, stating the period of time the occurrence is expected to continue. The Impacted Party shall use diligent efforts to end the failure or delay and ensure the effects of such Force Majeure Event are minimized.

The Impacted Party shall resume the performance of its obligations as soon as reasonably practicable condition are experienced after the removal of the cause. In the event that the Impacted Party's failure or delay remains uncured for a period of 30 days following Notice given by it, the other party may thereafter terminate this Agreement upon notice.
Failure To Perform Services
If the event Provider cannot or will not perform its obligations in any or all parts of this Agreement, it (or a responsible party) will:
Immediately give Notice to Client via the Notice provisions detailed in this Agreement; and
Attempt to find another competent professional to take its place with the mutual agreement of Client(s);
If another competent professional is not available or Client(s) do not agree to transfer of obligations to said alternate professional, Company will issue a refund or credit based on a reasonably accurate percentage of services rendered; and
Excuse Client(s) of any further performance and/or payment obligations in this Agreement.
Bel Voglio Design does not offer alteration services after the garment left the premises. All dresses can be adjusted during the series of fittings after you receive them. Please arrange for a final fitting when collecting your dress to ensure the perfect fit!!!
The estimated lead-time of your order is between 60-75 days; beginning when payment has been received for the bridal dress and the order has been confirmed. We also recommend you order the dress at least 3–5months before the wedding date to allow time for transportation and any alterations that may be needed before you receive the dress. Please refer to the Seasonal Lead-Time Schedule below:
Orders Placed Date Estimate Lead Time:
March –November: 12 weeks
December–February: 16 weeks
We recommend you factor in the dress arriving at least one month before the wedding to make allowance for any alterations that may be needed.
RUSH ORDERS
We can provide rush orders with lead times less than 10 weeks, but this depends entirely on our production schedule. All rush orders must first be approved, prior to ordering. 
We recommend the customer pays for Next Day Courier to recipient's address to assure faster delivery, otherwise, the order will be couriered standard ground (7–15 business days), if dresses cannot be collected from Bel Voglio.
Please note: RUSH ORDERS SUBJECT TO PRIOR APPROVAL.
All payments must be made in full before collection or delivery. A 60% deposit is required before we begin production on an order. We accept cash payments or payment via PayPal. The deposit is required upfront to start the design process, the remaining 40% balance is due prior to the finished product being collected or delivered. A signed contract receipt for custom is due along with the first payment. All sales are final. There are NO returns, exchanges, refunds, or transferred credits on any custom item sold at Bel Voglio Design.
Orders may be canceled up to 24 hours after the order is originally placed and in so doing incur a cancellation fee of $50.00. Rushed orders cannot be canceled at any time. The deposit will be forfeited if not canceled within 24 hours after placing an order for any canceled dress order.
A $20 cancellation fee will be charged for any canceled order for veils or accessories in addition to the charge of the fabric cost.
Any delay in payment past the due date provided by Bel Voglio in the payment schedule will delay the production process by a minimum of one month. Bel Voglio is not responsible for the on-time delivery of garments if this occurs. The client will be obligated to pay a $250 rush fee for upholding the project timeline in order to proceed with the original due date.
Changes to orders may be made up to 24 hours after the original order is placed, at Bel Voglio Design via the manufacturer's discretion. No changes may be made to orders after 24 hours.
Additional cancellation fees may be incurred per manufacturer guidelines, payable by purchaser each dress is custom made with your measurements.
All garments are made to order. There are no exchanges or returns on merchandise purchased. All sales are final. Any concerns or issues must be expressed within 10 days of receiving the dress. No returns are accepted, upon submitting your payment/deposit you enter a contract. Make sure to do your homework, try on dresses similar in shape to what you order, we cannot accept returns simply because you've changed your mind, or it looks bad on your body type after advice was given based on our years of experience in the industry. If there is something physically wrong with your gown, please contact us to resolve the issue. If your event is canceled the full amount for the dress is still due as agreed upon our invoicing outlined.
All garments are made to order. There are no exchanges or returns on merchandise purchased. All sales are final. Any concerns or issues must be expressed within 10 days of receiving the dress. No returns are accepted, upon submitting your payment/deposit you enter a contract. Make sure to do your homework, try on dresses similar in shape to what you order, we cannot accept returns simply because you've changed your mind, or it looks bad on your body type after advice was given based on our years of experience in the industry. If there is something physically wrong with your gown, please contact us to resolve the issue. If your event is canceled the full amount for the dress is still due as agreed upon our invoicing outlined.
Our clients must agree to the following before ordering:

– I am in agreement with the price quote(s) received for my custom item(s), which is valid for a week once I pay a deposit for this amount agreed. 

– I understand that I am responsible for paying the entire amount due. 

Furthermore

By submitting payment, I agree to all shop policies available here and online.
I understand that each dress is custom made by the measurements I provide
The gowns are handmade, not mass-produced, slight variations are expected.
If I do not provide a signed copy of the contract, my payment or my formal agreement to the contract is invalid 
If the contract is breached/canceled, I acknowledge and understand that I cannot receive a refund for my deposit as this money goes toward fabrics, supplies, materials and pattern making and I have no claim to them.
I understand that no design or sketch services will be provided to me until my payment or an initial deposit has been placed.
For custom orders, I agree to have my full balance paid in full before my dress is collected or couriered including courier fee.
I understand that the average dress takes 4 months to produce after finalizing design and fabric options (unless a rush fee has been paid)
I understand that there may be shade variations in color choices due to computer monitor differences and availability in fabric required
I understand that my wedding gown is a custom creation and cannot be returned under any circumstances.
I understand that all measurements must be provided within 1 week of order placement.
I understand that my deposit secures my spot on the creation schedule and the date of completion is determined by Bel voglio and will be provided in writing.
I understand that sketch services will only be provided for custom design dresses, but I am not entitled to sketches if I have requested minor changes to an already existing design.
I understand and agree that I may need alterations to my dress in order to get the exact look/fit that I want to achieve and that all alterations are MY responsibility after the dress has been taken from Bel Voglio premises.
I understand that the final photos are a privilege and not a requirement.
I understand that Bel voglio has the rights of ownership to the photos taken in the Bel voglio studio and by signing this you are giving consent for Bel Voglio to publish the photos on any Bel Voglio social media platform.
I understand that I may need a petticoat added to my dress in order to achieve fullness if my dress is a very full dress at an additional cost.
I understand that I cannot change my measurements, design, or fabric once my pattern has been started.
I understand that I cannot change my design or fabric once the deposit has been paid and design has been confirmed after 24 hours.
I understand that if I cannot or will not pay my remaining balance within 1 week of completion that I forfeit my dress and deposit as the deposit has gone toward the cost of my materials.
I understand that I must provide the following before my dress will be started: Correct Courier Address, Wedding Date, Contact Number, and Measurements – all this info will be part of the contract packet.
Any information requested in order to successfully complete my dress not provided in a timely manner reflects the timeline of my dress completion and is MY fault if not provided.
I have a right to request references and contact information for references.

I understand and agree with all terms stated in this Contract/Policy Form

Please contact Bel Voglio for a copy of the Policy / Contract Form.

This contract is not valid until 60% deposit is received.
Wedding Gown Inquiry Form
Complete the form below and we'll get back to you shortly